MOCHNIK was founded in 1991. Initially, the main activity of the company was the distribution of glass, mirrors and ornaments on the Polish market. Later, as the customers' demand for processed glass increased, a decision was made to purchase the first machines for cutting and grinding the edges. In 2001, the first glass toughening furnace was purchased, followed by screen printing machines in subsequent years At the same time, the basic machine park was expanded and the area of production halls was gradually enlarged.
In 2010, the first line in Poland for the production of water-coated glass under the Colorimo brand was launched.
Since 2012, Mochnik has been producing toughened and laminated glass with a maximum size of 2,800 × 6,000.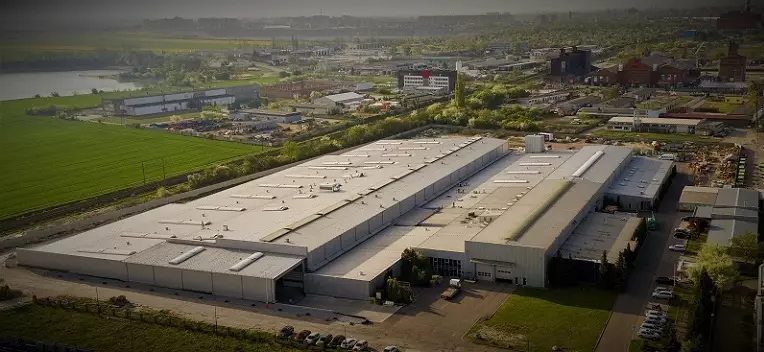 Own brands
Many years of experience and the desire to develop have resulted in the creation of two brands that stand out on the Polish market - Colorimo and Glasimo Projects.
Colorimo is a lacquered glass offering a wide range of possibilities in terms of both colour and design thanks to several collections. The standard collection of Colorimo lacquered glass is glossy and has great depth. Then there is the Colorimo Sati glass collection. Here the prominent position is held by the matt surface of the glass, which thanks to its velvety feel gives the piece of furniture a unique character and elegance. Colorimo ornament is the only collection of lacquered ornamental glass on the market. The main advantage of this collection is the structure of the glass, which, depending on its type, refracts the light falling on it, thanks to which we receive various types of light reflections.
Lacquered glass can be used in several ways:
polished glass forms can be directly glued to fronts made of furniture board,
as a wall cladding, e.g. between kitchen cabinets, instead of tiles in the bathroom or as decorative panels in other rooms,
glass can be placed in aluminium frames, a wide range of shapes and colours mean that such fronts can be used in both classic and modern furniture.
The Colorimo lacquered glass brand has been repeatedly distinguished and awarded by specialists in the furniture industry in the Meble Plus competition in the Product of the Year category in the 2016, 2017 and 2018 edition. The products also received the Dobry Design awards in 2016, 2017 and the main prize in 2018, and were nominated to the group of finalists in the 2017 Dobry Wzór competition.

Glasimo Projects specialises in comprehensive services for commercial, public and residential investments. It guarantees professional technical advice, individual approach to the customer and comprehensive execution of the order. We have experience in working with architects, designers, developers, construction companies and investors.

The offer of Glasimo Projects is addressed to both large recipients and individual customers from Poland, Germany, Austria, Spain, the Czech Republic, France and other European countries.
The Glasimo product range includes glass doors, walls, shower enclosures, canopies, railings, stairs and mirrors.